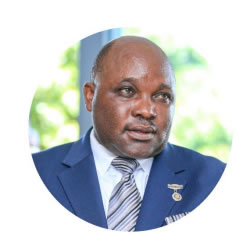 Chairman & Founder member
Bonifence holds a degree in theology from the University of Theology Milan (Italy) and a diploma in Accountancy from Uganda College of Studies Nakawa (now Makerere University Business School). Furthermore, he is a certified public accountant.
In 1994 Bonifence enters the tourism industry with founding Lake Kitandara Tours & Travel, which does not only operate in Uganda, but extends its expertise to Rwanda, DRC, Burundi, Tanzania & Kenya. Additionally, he has an extensive knowledge about hotel & lodge management, resulting from his three lodges which are located at the most frequently visited national parks of Uganda: Kibale Safari Lodge, Lake Kitandara Bwindi Camp & Hippo Hill Lodge.

Bonifence is not only a tourism stakeholder, but also decided to actively partake in the political structures of the sector. Therefore, he has been a board member at Uganda Wildlife Authority, was the chairman of the East African Tourism Platform, is the former president of the Uganda Tourism Association and was the chairman of the Association of Uganda's Tour Operators. Resulting from those positions Bonifence does not only enjoy an international network of tourism stakeholders, leading figures of important institutions and diplomats, but also gained a deep insight into governing structures, marketing opportunities & professional business strategies.

Currently, apart of being the chairman of ESTOA, Bonifence is also the vice chairman of the Uganda Hotels Owner Association. Furthermore, he holds the title of Honorary Wildlife Officer for Life. He is a dedicated advocate for sustainable tourism and wildlife protection, which is the focus of his current business plans.