Exclusive Sustainable Tour Operators Association
Exclusive Sustainable Tour Operators Association (ESTOA) is Uganda's unique tourism association with a main focus on creating a sustainable tourism sector. ESTOA represents the interests of experienced tour operators based in Uganda and provides a bridge in between the private sector, government institutions & other stakeholders to assure a growing network and flourishing industry.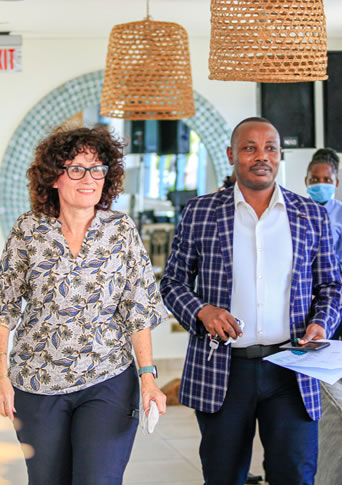 ESTOA has been officially launched by Mr. Jimmy Kigozi on behalf of the Minister of Tourism, Wildlife and Antiquities on March 24th 2022. Even though ESTOA's focus is laid on tour operators, since this is the tourism segment all founder members are experts, the sustainable development will happen in the whole tourism sector. The reason for this is simple, tour operators are the one entity in the industry which brings all stakeholders together. A tour can't be sold as sustainable if the accommodations booked do not follow the guidelines and a tour company cannot claim to be sustainable if their tour guides behave differently. Being a sustainable tour operator throughout does not stop in office operations, we have to assure that all segments of the tourism sector follow sustainable guidelines and therefore, as ESTOA, we are determined to create a major change within all stakeholders of the tourism sector.
Apart of this, ESTOA is planning different marketing activities to communicate the new development in the destination Uganda and support the "Explore Uganda" Campaign from the Uganda Tourism Board. In cooperation with the different marketing representatives, embassies and other partners we are convinced that we can create an additional growth of the tourism sector of Uganda.
Therefore, every tourism stakeholder who wants to include sustainable behavior in their business plan is welcome to join ESTOA. Since the movement is just started, at this moment ESTOA does not presuppose existing sustainable structures for members, instead we are welcoming everyone who wants to learn and change. But for the future being a member of ESTOA is a guarantee for clients and business partners or a sustainable business behavior.
Here image is set as column background image
Every Businessman and Businesswomen who follow global trends and developments will agree that no business owner who wants to be successful in the coming 5 to 10 years can avoid to include sustainability strategies in their companies. The world, from producer, service provider up to the consumer came to the understanding that as humans we can only enjoy the standard of life that we do at the moment if we start giving back. The tourism sector is not excluded from this development and the founders of ESTOA have decided that the Destination Uganda has to be part of this movement and show responsibility together as an industry.
Equal training and marketing opportunities are offered to all members.
A thriving tourism sector based on sustainable values, presenting the country's uniqueness to the rest of the world.