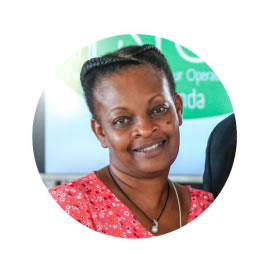 Certified Sustainability Expert
Glorious has vast experience in the tourism sector of over 12 years. She is the former Chief Executive Officer of the Association of Uganda Tour Operators (AUTO) from 2010 to 2021.
Glorious holds a Master of Business Administration from Ndejje University and a certificate in ustainable Tourism from Mahidol University in Thailand. She's an approved Trainer in sustainable tourism and holds a certification by TourCert (Germany). Furthermore, Glorious is the local associate for Sustainable Travel and Tourism Agenda (STTA Kenya), Tierranjani Africa (Kenya) and Kasese Tourism Investors Forum (affiliate members of UNWTO) and currently one of the EU Eco-Tandem Ambassadors.
Glourious is a passionate advocate of responsible/sustainable tourism. She has a deep-rooted love for Uganda's wild places, the environment, and the local communities and strongly believes should start from how individuals conduct themselves before it gets lost in the complexities of terminologies and academic definitions.